Documentation of EMP performing at the Creative City Project 2014
Portable NES Controller
8-bit chiptune cart
EMP: Electronic Mobile Performance from Shadee Rios on Vimeo.
Video and photo documentation of our EMP performance at Creative City Project, Oct 25th 2013 in downtown Orlando. Performing Members were be Jacob Frisenda, Joe Palermo, and Matt Roberts. For this performance students Joe Palermo and Jacob Frisenda used contact microphones and custom software to transform shopping carts into musical instruments. To accompany the sounds created by the shopping cart Frisenda and Roberts created a synchronized audio/visual performance. To create the synchronized performance the Palermo, Frisenda and Roberts created their own software instruments and used commercial sound software as well. The shopping carts were also outfitted with portable power and audio/video equipment which enabled the group to move around the city to create impromptu performances in public spaces.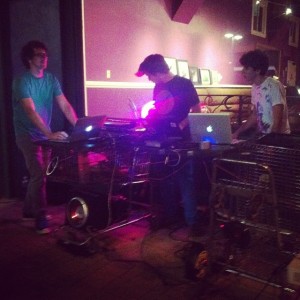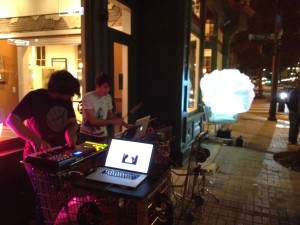 EMP: Electronic Mobile Performance is a collaborative, multimedia project involving faculty and students from Stetson University's Digital Arts program. The group's primary mission is to explore collaborative artistic production using new technologies and to find new ways of presenting art outside of traditional venues. EMP is directed and founded by Matt Roberts, Associate Professor of Digital Arts at Stetson University. http://electronicmobileperformance.com
An earlier incarnation of EMP was a group created and directed by Matt Roberts know as MPG: Mobile Performance Group. MPG presented a number of site-specific performances at festivals and conferences throughout the country, including ICMC: International Computer Music Conference, Conflux, and ISEA: Inter-Society for the Electronic Arts. For more information about MPG please see the archived site.