For the Month of April 2014 Fire Dreams will be part of the O, Miami poetry festival. A collaboration with Poet Terri Witek, Fire Dreams is an augmented reality project for mobile devices. Participants can locate dreamers throughout the city of Miami, see our poem/image collaborations, and contribute a seven word dream of their own. Visit the Fire Dreams website to find out more…
EMP: Electronic Mobile Performance from Shadee Rios on Vimeo.
Video and photo documentation of our EMP performance at Creative City Project, Oct 25th 2013 in downtown Orlando. Performing Members were be Jacob Frisenda, Joe Palermo, and Matt Roberts. For this performance students Joe Palermo and Jacob Frisenda used contact microphones and custom software to transform shopping carts into musical instruments. To accompany the sounds created by the shopping cart Frisenda and Roberts created a synchronized audio/visual performance. To create the synchronized performance the Palermo, Frisenda and Roberts created their own software instruments and used commercial sound software as well. The shopping carts were also outfitted with portable power and audio/video equipment which enabled the group to move around the city to create impromptu performances in public spaces.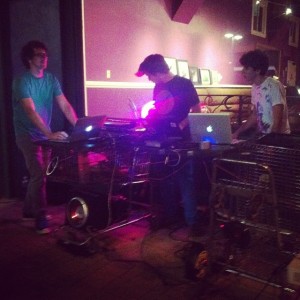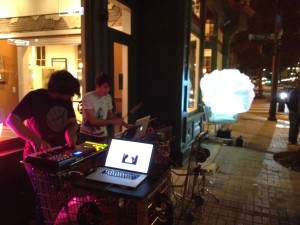 This Friday night (October 25, 2013) I will be performing with EMP: Electronic Mobile Performance at the Creative City Project in downtown Orlando.
EMP: Electronic Mobile Performance is a collaborative, multimedia project involving faculty and students from Stetson's Digital Arts program.  The group's primary mission is to explore collaborative artistic production using new technologies, and to find new ways of presenting art outside of traditional venues.  EMP is directed and founded by Matt Roberts.
Description:
This project takes as its premise that when we walk through cities, our bodies enter the dreams of other people who've walked there. New media artist Matt Roberts and poet Terri Witek map the city by floating  various "dreamers" over interesting metropolitan spaces. City wanderers then follow this walkable dream map via an augmented reality phone app. Along the way, they are offered chances  to see a dream, hear a dream, text a dream of their own, send a photo, and perform various other  transmittable acts. These become part of the living dream map of the city.
How it works:
This project uses Layar a free augmented reality application for mobile devices. Participants can download the Layar app and follow the Fire Dreams map, which is designed as an international project adaptable to any urban space. For further information about having the artists visit your city please contact Matt Roberts
Artist bios:
Matt Roberts
Matt Roberts is a new media artist specializing in real-time video performance and new media applications. His work has been featured internationally and nationally, including shows in Taiwan, Brazil, Canada, Argentina, Italy, Mexico and nationally in  New York, San Francisco, Miami, and Chicago. He has shown in several new media festivals including ISEA, FILE, 404, CONFLUX, and he recently received the Transitio award from the Transitio_MX Festival in Mexico City. He is the founder of MPG: Mobile Performance Group , and an Associate Professor of Digital Art at Stetson University. http://mattroberts.info
Terri Witek
Terri Witek is the author of Exit Island, The Shipwreck Dress ( both Florida Book Award Medalists), Carnal World, Fools and Crows, Courting Couples (Winner of the 2000 Center for Book Arts Contest) and  Robert Lowell and LIFE STUDIES: Revising the Self, as well as a  recent comic book/ poetry chapzine, First Shot at Fort Sumter/Possum.  Her poetry has appeared in Slate, The Hudson Review, The New Republic, The American Poetry Review, and other journals, and she s the recipient of fellowships from the MacDowell Colony, Hawthornden International Writers' Retreat, and the state of Florida.  A native of northern Ohio, she teaches English at Stetson University, where she holds the Sullivan Chair in Creative Writing. http://terriwitek.com
a few images from last weeks sketch book  posted on tumblr http://ibmattroberts.tumblr.com/
My work Waves was listed in this article about art works that utilize real-time data. Make sure you check out the inspiring works listed in the article. I am honored to be amongst amongst such great works!
http://postscapes.com/networked-art-10-projects-using-real-time-data
I recently attended the FILE festival in Sao Paulo, Brazil. There I exhibited my work  Waves and participated in the FILE symposium. I took a few shots of my work with my iphone cam so the quality is not that great but it will give you a sense of the installation. Honored to be part of such a great festival and to have exhibited with some fantastic artists.
This artwork responds to the current size and timing of the waves of the closet ocean of its current location. Every half hour the most current data from the closet ocean buoy station is downloaded. Custom software uses the current wave height and dominant wave period data from the buoy and transforms that information into a low frequency sound wave. As the size and timing of the waves in the ocean change so does the frequency of the sound waves produced by the software. These sound waves shake a bowl of water sitting on top of a speaker. This shaking produces wave patterns in the bowl that are captured by a video camera modified by the software and projected onto a wall. As the waves in the ocean change size and frequency the waves in the bowl will also change. This results in continuous variations of the shapes and patterns that one sees and hears which also reflects the constant changing conditions of the ocean.
Final projects from my class DIGA 231 Interactivity and Art. This is an introductory class where students learn how to program their own interactive software using MAX/MSP and how to use Arduinos. Students also learn how to use a variety of switches and sensors such as distance, light, pressure, knock, temperature, RFID and heart rate sensors.