A new garden planted at Austin Peay Department of Art and Design
New Dream Gardens planted this summer
Currents New Media 2017, Santa Fe, New Mexico
ISEA 2017, Manizales, Colombia
Disquiet International, Lisbon, Portugal
ELO 2017, Porto, Portugal
Launch of a new Dream Garden at the Atlantic Center for the Arts and an artist talk
Terri Witek responds to images from Unfolding for a collaboration in ARTBORNE Magazine.
Unfolding is an improvised audio visual performance featuring Satoshi Takeishi and Matt Roberts. Takeishi performs with a prepared hammer dulcimer to create a mysterious and alluring soundscape, while Roberts accompanies Takeishi's musical improvisations with real-time animation and video projection.
Satoshi Takeishi, drummer, percussionist, and arranger is a native of Mito, Japan. His art explores multi-cultural, electronics and improvisational music with musicians and composers from around the world. Takeishi has appeared on over 75 recordings including those by Latin giants Nestor Torres, Ray Barretto, Hector Martignon and Eliane Elias (in the film, "Calle 54"). He has also performed with Laszlo Gardony, Shoko Nagai, Dave Liebman, Badal Roy, Erik Friedlander, Cantor, Sasha Argov, Colombian saxophonist Antonio Arnedo, Paul Winter, Antony Braxton, Theo Bleckmann/Ben Monder, Joel Harrison and Rob Brown.
Matt Roberts is a new media artist specializing in locative media, physical computing, augmented reality, and real-time video performance. His work has been featured internationally and nationally, including shows in Taiwan, Brazil, Canada, Argentina, Italy, Mexico and nationally in New York, San Francisco, Miami, and Chicago. He was awarded the Transitio Award by the International Transitio_MX Festival in Mexico City, and his work has been reviewed in New York Times, Wall Street Journal, and Miami Herald. Roberts received his MFA from the University of Illinois at Chicago, and is currently an Associate Professor of Digital Art at Stetson University, DeLand, Florida.
Burdened by history and our own expectations, art can become settled in space/place. The Strangers invites Orlando Museum of Art visitors to re-meet some familiar OMA holdings. Museum-goers are invited to download the free Layar app on their smartphones and through brief augmented reality encounters get to unknow the collection.
Description:
Dream Garden is a site-specific project to gather, graft and nurture a city's dreams.   Each time a city dweller texts a 7-word dream (a poetic form moving private experience into public space), that dream automatically joins others both in a "garden" (a designated physical location in the city) and online at inthedreamgarden.com.   The project shows how how some community resources– like citizens' dreams — can inhabit and expand a space without wounding it, colonizing it or wasting natural resources.  As a political space, it's urban renewal and greening without displacement.  As a philosophical space it suggests that dreaming together may change a city and even a country.  As a community garden it suggests that our dreams aren't wasted—they are growable, transplantable, and in the poetic space of the project, both virtual and real.
How it works:
This project uses Layar, a free augmented reality application for mobile devices. Participants can download the Layar app and see their texted dream joined with others in site-specific locations. The international project is designed to adapt to any urban space.
This is a collaborative project with poet Terri Witek and software developer Michael Branton. For more information about the project visit inthedreamgarden.com
A few images from a recent presentation of Dream Garden at AIOP Orlando. Dream Garden Orlando allows participants to text a 7 word dream, which is collected on the Dream Garden website and planted in a augmented reality "garden" at the Orange County Regional History Center.
Documentation of a recent installment of Unknown Meetings in Vancouver's SkyTrain Metro line during ISEA 2015
Documentation of a recent installment of Unknown Meetings in the Glasgow Subway for xCoAx 2015
Unknown Meetings is a site-specific augmented reality project that takes as its premise the awkward and surreal encounters that daily occur on commutes. Designed by new media artist Matt Roberts and poet Terri Witek for local transportation systems riders activate via smart phone both an "unknown" object moving over the actual landscape and an accompanying brief poetic audio file which considers such encounters.
These are activated whenever the train approaches a station. Commuters use the free Augmented Reality app Layar on their smart phones to see a floating image—usually an out-of-place object –and hear a brief accompanying text. Stations are nexuses of anxiety when we commute—is this our stop? By floating objects and words that offer still more unexpected juxtapositions, Roberts and Witek try to shift the anxiety of arrival into a consideration of moving "connections."
Documentation of EMP performing at the Creative City Project 2014
Portable NES Controller
8-bit chiptune cart
EMP: Electronic Mobile Performance from Shadee Rios on Vimeo.
Video and photo documentation of our EMP performance at Creative City Project, Oct 25th 2013 in downtown Orlando. Performing Members were be Jacob Frisenda, Joe Palermo, and Matt Roberts. For this performance students Joe Palermo and Jacob Frisenda used contact microphones and custom software to transform shopping carts into musical instruments. To accompany the sounds created by the shopping cart Frisenda and Roberts created a synchronized audio/visual performance. To create the synchronized performance the Palermo, Frisenda and Roberts created their own software instruments and used commercial sound software as well. The shopping carts were also outfitted with portable power and audio/video equipment which enabled the group to move around the city to create impromptu performances in public spaces.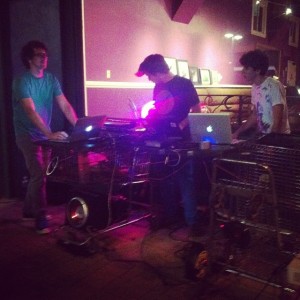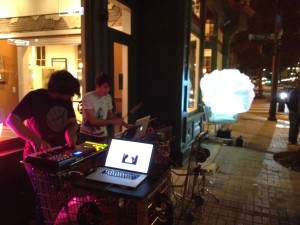 This Friday night (October 25, 2013) I will be performing with EMP: Electronic Mobile Performance at the Creative City Project in downtown Orlando.
EMP: Electronic Mobile Performance is a collaborative, multimedia project involving faculty and students from Stetson's Digital Arts program.  The group's primary mission is to explore collaborative artistic production using new technologies, and to find new ways of presenting art outside of traditional venues.  EMP is directed and founded by Matt Roberts.
A collaboration between my Adv Interactivity class and the Theatre Program's production of Vinegar Tom. For this production my students created their own video projection mapping software to project their videos onto 5 different location on the stage.
Description:
This project takes as its premise that when we walk through cities, our bodies enter the dreams of other people who've walked there. New media artist Matt Roberts and poet Terri Witek map the city by floating  various "dreamers" over interesting metropolitan spaces. City wanderers then follow this walkable dream map via an augmented reality phone app. Along the way, they are offered chances  to see a dream, hear a dream, text a dream of their own, send a photo, and perform various other  transmittable acts. These become part of the living dream map of the city.
How it works:
This project uses Layar a free augmented reality application for mobile devices. Participants can download the Layar app and follow the Fire Dreams map, which is designed as an international project adaptable to any urban space.
Project Website:
http://thefiredreams.com